Showcasing the region's best producers, growers and makers Gale Force Farm's Fine Food Providore and Origins Fresh will add a punch of fresh food options to the line up at Origins Market from Saturday 16 April.
Gale Force Farm's farmer, Rob Underwood explains the concept for the Fine Food Providore at Origins Market.
"As a producer in the south west region I know there are so many incredibly talented makers in our area, from cheese to chocolate, from sauces to jams, from charcuterie to dairy and much much more," Rob said.
"The Fine Food Providore concept is to showcase the very best of as many of these incredible producers as we can, giving customers a sneak peek at the delicious options that are available to them in the south west and facilitating a 'first taste' before they venture onwards to the producers themselves.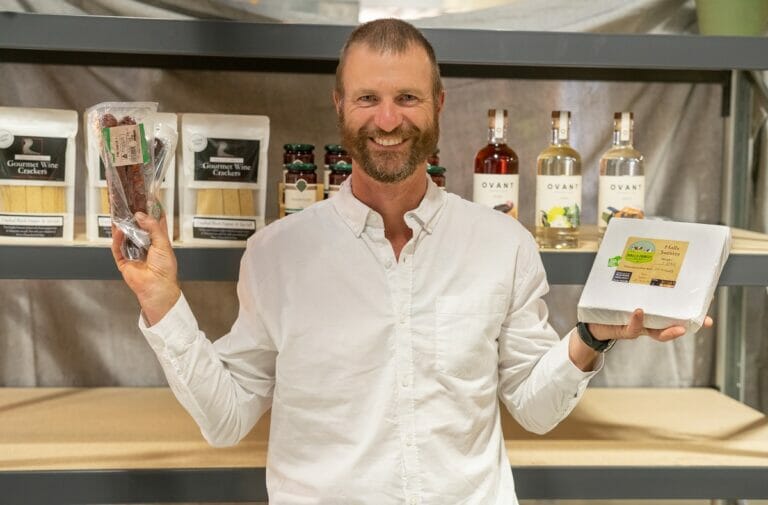 "Our range will be ever changing, but you can expect to see products from the regions best including The Berry Farm, Yallingup Chocolate, Margaret River Venison Farm, Cambray Cheese, Truffle Hill, and the much-anticipated fresh jersey milk from The Cheeky Cow.
"Our hope is that by tasting the best of the region, our customers will also explore further and visit the incredible producers directly," he said.
The Fine Food Providore will stock a range of locally sourced charcuterie (cheese and cold meats) which can be selected individually or pre-ordered as a prepared grazing board for a quick weekend win.
Moving across to the fine food space will also be Livity Juice (a sister business of Gale Force Farm), they will be serving up their locally renowned range of cold-pressed juices as well as adding freshly squeezed orange juice to the menu.
Alongside the Fine Food Providore, the reimagined Origins Market Fresh will bring farm-fresh in-season fruit and veg to market, allowing customers to choose from the best the season and region has to offer.
Matt Materia, Origins Market's new operations manager, describes the fresh food space as a growing and exciting addition to a one-of-a-kind market.
"From Easter weekend you can make Origins Market a regular visit for all your weekly food needs," Matt explained.
"In one visit you can stock up on the region's freshest locally caught fish and seafood at Augusta Seafoods, get your prime cuts of meat and awarded sausages from The South West Cheeky Butcher, ready your grazing board at the Fine Food Providore, grab fresh fruit and veg from Origins Fresh, pick up your daily bread from Dusty Buns, fresh roasted coffee from Two Cracks, the options just go on and on!"
Gale Force Farm's Fine Food Providore and Origins Fresh open officially on Easter Saturday, 16 April and will be open every day of the school holidays after opening.
We're all about community here at Origins Market.  If you'd like to hear our news, find out about exciting new vendors, upcoming events and workshops, seasonal promotions, recipes and more; sign up to our Buzz Club.