Attention foodies and market enthusiasts! Embark on a mouth-watering food vendor adventure that will tantalize your taste buds and leave you craving for more. Origins Market Busselton highlights the region's finest produce and artisans, serving up a delightful tapestry of flavours, aromas, and unique creations.  
In this blog post, we unveil a curated list of remarkable vendors that deserve your undivided attention during your visit to Origins Market Busselton. This vibrant marketplace in the heart of Western Australia's captivating coastal town boasts an impressive lineup of culinary stars that are sure to ignite your taste buds and captivate your senses. 
SubZero Gelato 
Originating from the Netherlands, Janneke, the passionate owner and artisan gelato maker behind SubZero, has dedicated years of training and refining her craft to bring mouth-watering hand-crafted creations to Origins Market, with a remarkable accolade of being crowned the 'Champion Gelato' at the prestigious 2021 Perth Royal Food Awards. From the first creamy spoonful, you will taste the difference that comes from her commitment to using only the finest, locally sourced ingredients. Whether you opt for a cup, a cone, or a take-home tub, prepare to fall head over heels in love with SubZero Gelato's delectable creations.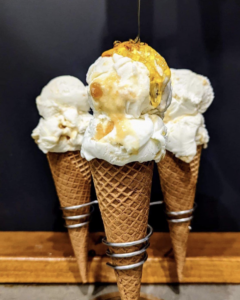 Balinese Butcher
Prepare your taste buds for a culinary adventure at the Balinese Butcher, where the talented Madè crafts delectable Balinese sates and sausages that are renowned for their mouthwatering flavours. But that is not all—the Balinese Butcher also boasts a wide selection of fresh, beautifully cut meats sourced locally from the Southwest region. You will find premium Dardanup Lamb, succulent Harvey Beef, tender Mt Barker Chicken, and flavourful Plantagenet Pork, ensuring that all meat lover's cravings are satisfied. 
For those seeking convenience, the Butcher's Wife, the sister store to the Balinese Butcher, offers an array of ready-to-go options ranging from freshly made salads to Balinese fusion dishes, making dinner preparations a breeze. This dynamic husband and wife team also combines their butchering skills with culinary expertise, infusing traditional street food with their fusion vision.  
CookDigs Mediterranean Mezze 
CookDigs Mediterranean Mezze is dedicated to bringing people together through the joy of sharing healthy food. Drawing inspiration from Lebanese, Greek, and Italian cuisines, the menu offers a delightful array of mezze, kebabs, dips, and daily salads that are sure to satisfy the whole family. With its diverse range of flavours, textures, and tastes, CookDigs provides the perfect option to cater to everyone's preferences. Everything is sourced locally and crafted in-house, ensuring freshness and quality at an affordable price. Chef and owner Thomas Cook brings a wealth of experience from his time in Gordon Ramsay's Michelin restaurants before deciding to pursue his passion for no-fuss, delicious food that all can enjoy.  
Obison Coffee Roasters  
Obison Coffee Roasters was born with a passion for delivering Specialty Grade Coffee that truly celebrates the three essential Custodians of Coffee. First, the Farmers play a crucial role by sourcing the finest Specialty grade Coffee from around the world, ensuring the highest quality beans. With their expertise, the coffee beans undergo careful roasting, resulting in beans that beautifully highlight the unique flavours and origins of the coffee. Obison Coffee Roasters' skilled barista Sheldon prepares each cup of coffee with precision and passion to ensure the best coffee experience, elevating every sip to perfection. 
Obison Coffee Roasters, nestled between Dusty Buns and Sub Zero Gelato, is the perfect destination for coffee enthusiasts seeking an exceptional experience. Sheldon, the lead barista, meticulously selects a blend of Brazilian, Colombian, and Ethiopian specialty coffee beans. These beans are sourced from farmers who prioritise the well-being of their coffee farms, resulting in exceptional quality and character. The beans are expertly roasted to preserve their original flavours, ensuring a truly remarkable coffee experience with every sip. 
But that's not all. Obison Coffee Roasters goes beyond just serving outstanding coffees. Indulge in their gluten-free and raw treats, tantalising your taste buds with their delicious toasted sandwiches.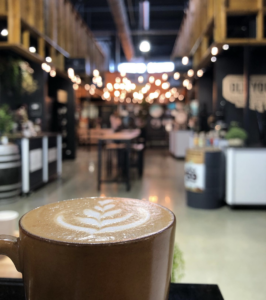 Sour Boys 
Step right up and witness a sweet spectacle at Sour Boys. Mat and Bricky, the talented duo behind this delightful candy stall, are here to handcraft delicious treats right before your eyes. With Bricky's expertise in confectionery and Mat's touch of circus magic, they create a captivating display of lollipops, rock candy, and an array of mouthwatering sweets. Sour Boys is the go-to destination for fun and high-quality candies. Bring your family and friends for an unforgettable experience as you indulge in the sweet creations crafted by Mat and Bricky. Get ready to be amazed by their skill, creativity, and the joy they bring to every candy-making session.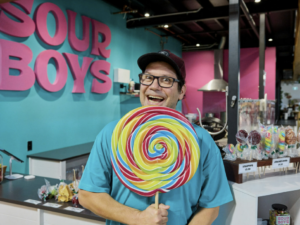 Origins Market Busselton is a haven for food lovers seeking unforgettable culinary experiences. With a lineup of must-visit vendors like SubZero Gelato, the Balinese Butcher, Sour Boys, Silas Espresso, CookDigs Mediterranean Mezze and more, this market is a treasure trove of flavours and delights. Embark on a gastronomic adventure and uncover the unforgettable tastes that await at Origins Market Busselton.